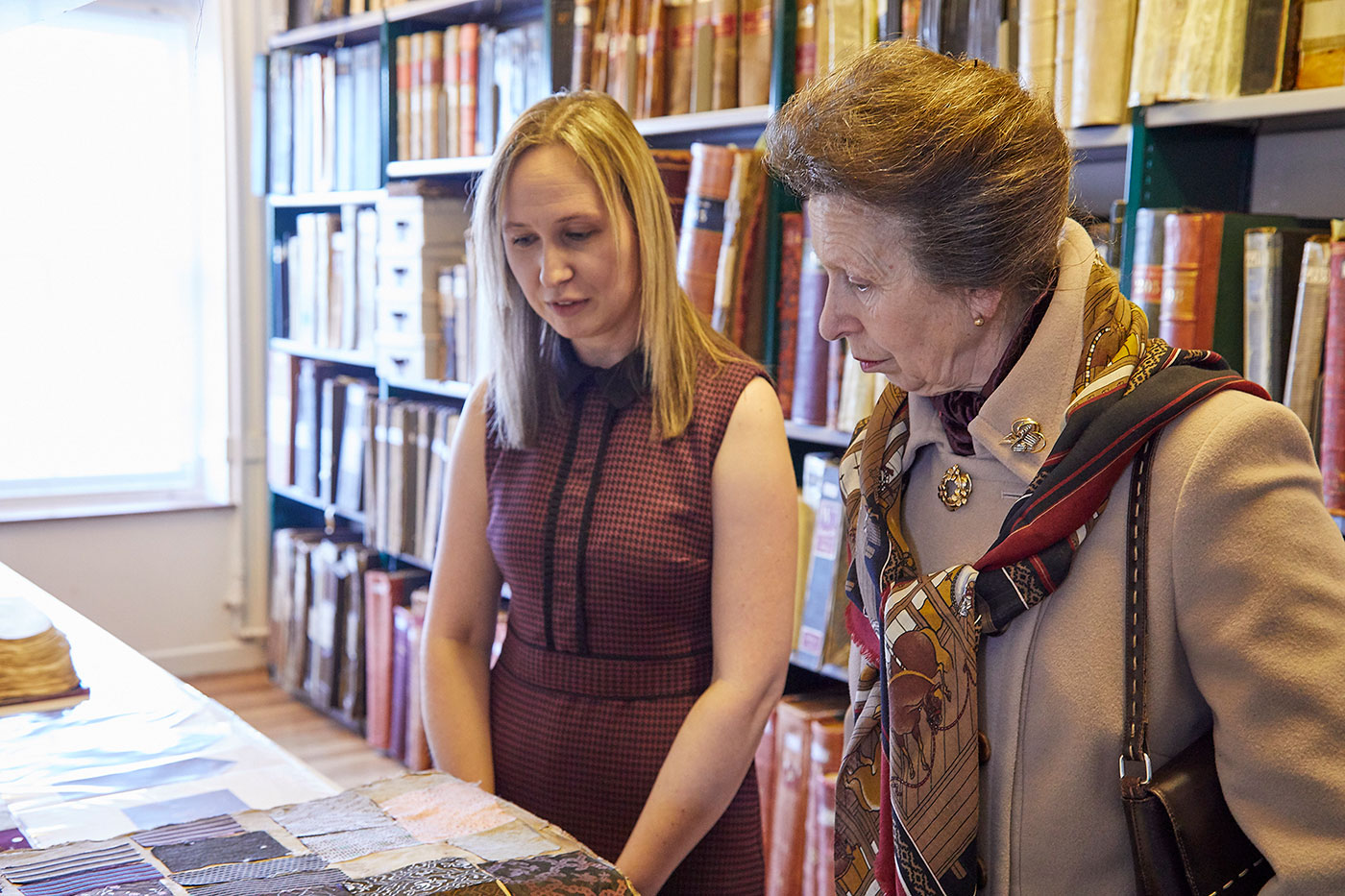 Katherine Winterton and HRH The Princess Royal.
On Tuesday 19th December we were delighted to welcome HRH The Princess Royal, President of the UK Fashion and Textiles Association, to David Walters Fabrics and Stephen Walters & Sons.
During her visit, the Princess spoke with various members of the team and was given an insight into all aspects of our business, from sales and design through to dyeing and production.
Julius Walters, Managing Director and the tenth generation of the Walters family to run the business, accompanied the Princess Royal on the mill tour. He showed first-hand how our historic company is investing in it's future with the latest technology.
This Royal visit marks the latest connection between our historic mill and The Royal Family. Our company operates as a forward-thinking business that rises to the challenges of the 21st century while drawing on our prestigious 300-year heritage.
"Her Royal Highness last visited the mill in 1976, just a few years after she walked down the aisle on her wedding day in a gown made of white silk woven by Stephen Walters," said Ceri Yates, Sales Manager. "We have provided the finest silks for a number of Royal historic events over the years. We created the silk for The Queen's Coronation robes in 1952; later we wove silk taffeta for Princess Diana's wedding dress, made by Elizabeth and David Emanuel in 1981; then in 2011 we were privileged to weave fabric for the Archbishop of Canterbury's robes for the wedding of The Duke and Duchess of Cambridge."
"Since our last Royal visit, the principles we use to weave our fabrics haven't really changed, but the technology certainly has. Our fabric is every bit as luxurious and high quality as it has ever been, but with our recently-purchased looms we are more able to deliver the flexibility, variety and originality that our customers require," continued Julius Walters, Managing Director. "This investment is part of our drive to future-proof the Walters group, to ensure we have a sustainable business that can adapt to the ever-shifting requirements of our fashion-forward clientele; the world's top design houses understandably demand the highest levels of innovation."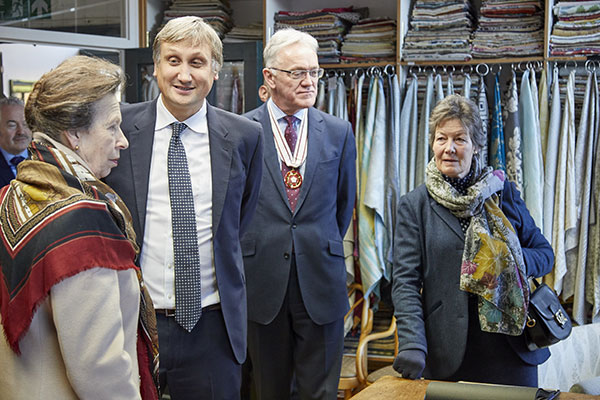 HRH The Princess Royal with Managing Director, Julius Walters. Accompanied by Deputy Lieutenant Mark Pendlington and HRH's Lady in Waiting.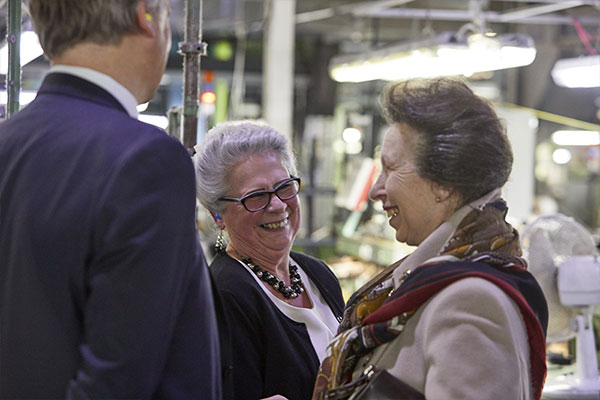 Margaret Long, one of our weavers, sharing a moment with the Princess Royal.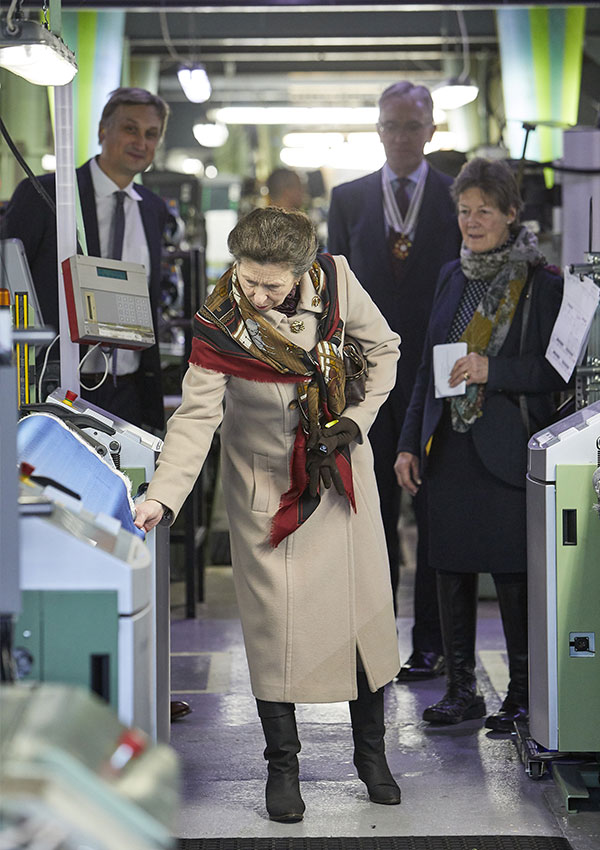 Julius Walters, HRH The Princess Royal, Deputy Lieutenant Mark Pendlington, HRH's Lady in Waiting.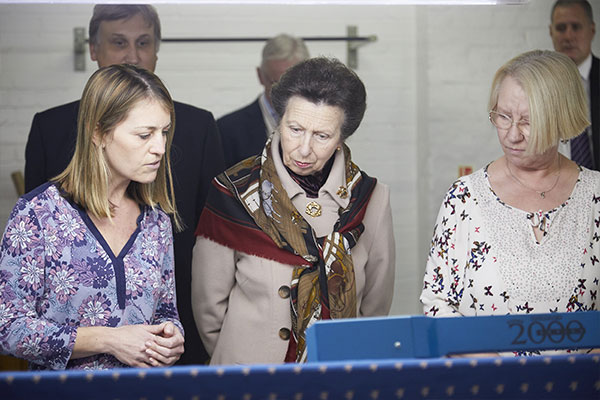 Clare Edwards, HRH The Princess Royal and Marleen Murray in the inspection room.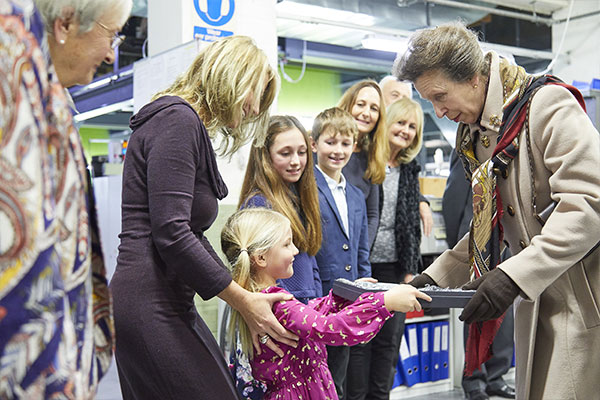 HRH is presented with a silk and cashmere scarf to commemorate the visit.